Green Building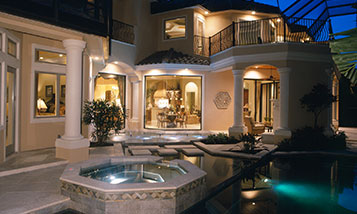 Keevan Homes has the expertise and experience to carry out a "green" approach for your building project. Green homes create less waste, use less energy, water and natural resources, and are more durable and comfortable for occupants. Keevan Homes can help "green" your project so that your building costs less to operate and maintain, as well as building homes in alliance with our environment and natural resources.
There is a range of "green" approaches possible: from choosing energy efficiency in the home's structure and systems, to fulfilling high standards of environmental performance and excellence through design, construction, operations and maintenance.
For a quick reference to the Green Builder Homeowner's Handbook:

An insider's guide to the designs, products, and principles of building or remodeling an energy-saving, eco-friendly home visit Green Builder.
---
Environmental Organizations that Keevan Homes are affiliated with are:

Florida Green Building Coalition (FGBC)
FGBC is a nonprofit 501(C)3 Florida corporation dedicated to improving the built environment. The FGBC Green Home Standard indicates the criteria by which a Florida home, new or existing, can be designated green. Certifying Agents can guide designers, builders or homebuyers through the process of qualifying and documenting green homes. Learn more about FGBC's Home Certification Standard.
---

National Association of Home Builders Green (NAHB)
ICC 700 National Green Building Standard™ is the first and only residential green building rating system to undergo the full consensus process and receive approval from the American National Standards Institute (ANSI). The Standard defines green building for single- and multifamily homes, residential remodeling projects, and site development projects while still allowing for the flexibility required for regionally-appropriate best green practices. Learn more about NAHB's Green Building Standard.